Driving to France?
You need a Crit'Air sticker or 'clean air certificate' if you are driving in cities. click here.
24hr service

Get
live

vehicle information

from the UK DVLA database...

You will need only the vehicle registration number. This is a 3rd party data provision service. We are not part of the DVLA, and have no partnership with the UK DVLA.
Trade
Promotions

---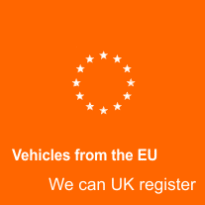 Available through this web site
---


with LEZ driving permits, tests, and advice from us
---
How is Brexit affecting your freedom of movement? What is changing?

When is the best time to move yourself or your vehicle in or out of the UK?

Will an import-now be safe from VAT 'post Brexit'?

How will tax and excise changes affect a classic car investment?

All these questions can be answered now.


Brexit Adviser

You can meet face-to-face with a Brexit Adviser. In Bristol, on a walk-in basis (coming soon), or now, by booking an appointment. Or we can come to you (please enquire: info@vrsbristol.co.uk).




Times of availability:



By appointment - weekdays between 10.00 and 16.30, but with an ad hoc lunch break.

Two scheduled Evenings per week are planned for 18.30 - 21.00. And currently available by appointment, at these times.




Adviser's Scope and Limits:



David Williams has developed a thoroughly-researched-and-practised comprehensive understanding of EU (previously EC, and now extending as The European Area) operational issues. With extensive knowledge in the field of EU non-tariff barriers to the freedom of movement of people and their vehicles.

He holds an MA in International Relations (Nottingham University). He read EC and EU Institutional procedure, Law and Politics of the EU; along with Western European Politics, as an undergratuate. He lived and worked in Brussels over a two-year period, including work within the European Commission. Now he holds a strong portfolio relating to motoring and motorist issues within the EU, and is able to predict and advise within this field, regarding Brexit and post-Brexit.

"[January 2021] For the past ten years I have directed a business assisting the movement of citizens and their vehicles within the EU (now the European Area). During the past two years of transition and post-transition our work intensified in the specific area of vehicles and motorists going from and to the UK on permanent and temporary basis. Since June 2016 we have transacted over 10000 B2C (Business to Consumer) and B2B (Business to Business) solutions and assistance service packages."





Areas of expertise:



Re-registration and first registration of vehicles within the UK.
EU vehicle type approval and compliance testing regulations.
Re-registration of UK vehicles in France.
Documentation and procedures for moving vehicles between EU states; including automotive documentation, tax and excise issues.
Emission and Low Emission Zones (LEZ) issues and developments, EU-wide.
Vehicular Demographics (UK, EU).
Taxation and vehicle Duty.

---




We can help with all import, export and UK registration issues. We advise as follows:



When is the best time to import a car in to the UK? NOW.

When is the best time to register an unregistered car in the UK? NOW.

When is the best time to relocate with my vehicle?

NOW.



Let us tell you why.











NOTE:


David Williams can be booked on a contractual basis for longer periods, and to speak or advise at events or groups. Please email direct for this -

info@vrsbristol.co.uk





How to book or express interest in a meeting
Presently, you are required to book an appintment. Please use the booking form below.



---

TO BOOK YOUR MEETING

,

please give us the required information. Your input will be processed and captured and you will proceed to the payment options page.


---


After you submit this form and continue to payment, you will be emailed a confirmation. Thank you for your custom.
APOLOGIES: Some Apple Safari users may experience

no action

when pressing Submit. If this happens please use a different browser like CHROME on your apple or email us a screenshot of the completed form above to

info@dvlaadvice.co.uk

, and we will get back to you.